AlphaNet Honors Joe Zuraw with $100,000 Donation to John W. Walsh Translational Research Fund and Annual National Conference Travel Fund for Alphas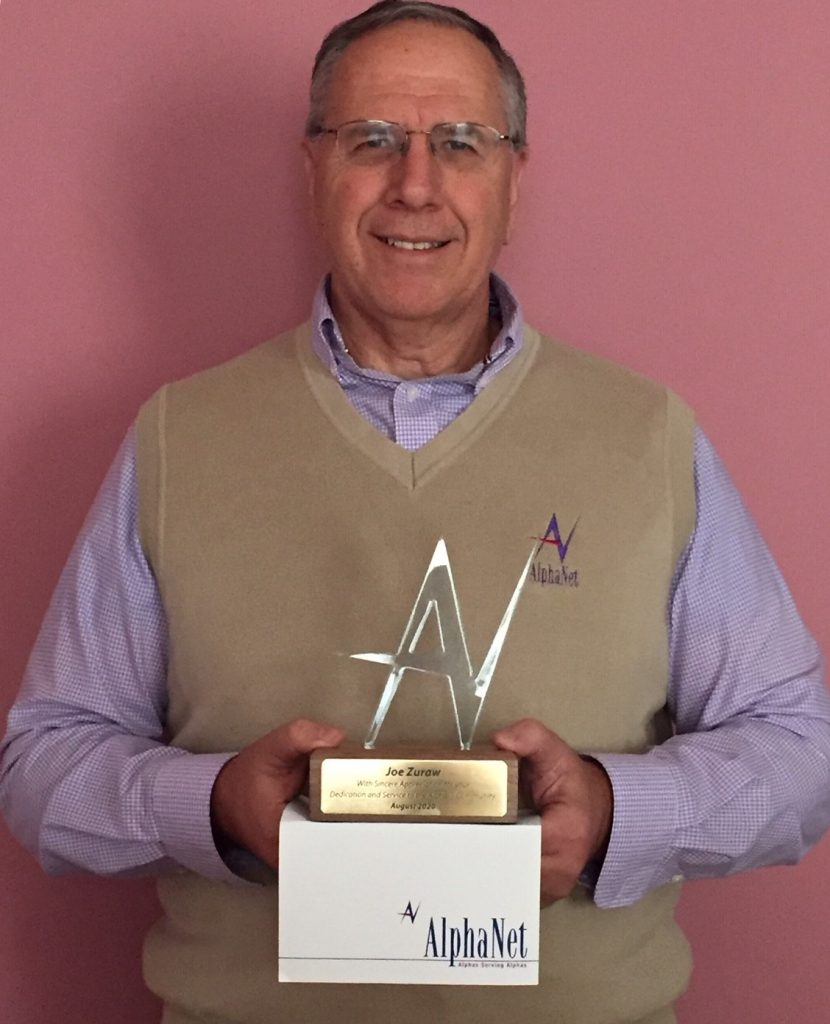 In recognition of Joe Zuraw's remarkable dedication and immeasurable contributions to the Alpha-1 community, AlphaNet is proud to donate $100,000 to the John W. Walsh Translational Research Fund and establish an ongoing Alpha-1 National Conference travel scholarship fund in Joe's name that will provide 20 Alphas the opportunity to attend the annual conference. AlphaNet has also awarded Joe with an Alphie, an award that is conferred to a select few outstanding members of the Alpha-1 community who have made a significant and lasting impact. Joe retired from Grifols in August 2020 after more than two decades of working in the augmentation therapy patient advocacy space.
"I am very touched by this [honor]. While I feel I have always tried to keep the patient's voice at the forefront of any corporate decisions, I feel having the privilege of being part of the Alpha-1 community has provided me with many life lessons that helped guide me throughout all avenues of my life. I would be remiss if I did not say "THANK YOU" to the entire community for making me who I am today," Joe said.
Joe joined Bayer Pharmaceuticals in October of 1985 after graduating from Yale and receiving an MBA from the University of Bridgeport. In July 1998, Joe moved from his role as Product Manager of Bayer's Cipro, a very widely used antibiotic, to become the Senior Product Manager for Bayer's biologic products, focusing on Prolastin. During his two years in this role, Joe oversaw the design and implementation of an entirely novel method of direct-to-patient drug distribution, which became known initially as Bayer Direct and is now known as Prolastin Direct. Bayer Direct was designed to address major shortages of Prolastin, the only available Alpha-1 augmentation therapy at the time, as well as manage issues related to patients losing their allocation of Prolastin when changing physicians, location, or insurance.
AlphaNet played a major role in moving all the patients in the U.S. receiving Prolastin (over 1,800 Alphas) to the Bayer Direct program over the course of one month (November to December 1999). AlphaNet worked closely with Bayer, through Joe, to make this shift as painless and efficient as possible. Through all this turmoil, Joe was the main point of contact with Bayer and displayed an unusually compassionate approach to patient issues that cemented his place in the hearts of patients, AlphaNet Coordinators, and his peers at Bayer. This commitment was demonstrated repeatedly as Joey Z (as he is fondly known), was a fixture at nearly every Alpha-1 Foundation and AlphaNet educational, scientific, and fundraising event. His disposition was that of an interested, concerned, and knowledgeable friend of the entire community.
Joe was also instrumental in the initiation of the Prolastin Direct Partners Meetings. Initially a 3-times-per-year business meeting of AlphaNet, Bayer, and Express Scripts representatives, it evolved into social/business extravaganzas with each leg of the three-legged stool of the Prolastin Direct Program acting as host for one of the meetings. The "legs" changed over time with Express Scripts changing to Centric to Dohmen to Eversana, and Bayer changing to Talecris and then to Grifols. Through all the changes, AlphaNet and Joe were the elements that remained unchanged.
Joe did change professional roles over time. After his position as Senior Product Manager for all of Bayer's biologics, he moved to Director of Marketing (Prolastin/Bayer Direct), Customer Service, and Reimbursement in 2000. In 2005, when the venture capital company Cerberus purchased Bayer's biologic products division and named the new company Talecris, Joe became the Senior Director – Pulmonary Operations and Patient Advocacy. Finally, in 2011 and until his retirement in August 2020, he became Senior Director of Corporate Affairs with a focus on patient advocacy under Prolastin's new owner, Grifols.
"The number of programs, physicians, and Alphas who were directly impacted by Joe's personal approach is remarkable and he will be greatly missed. Joe and his wife Cindy were the best examples of how industry can support the patient community in direct personal, professional, and meaningful ways," AlphaNet Senior Medical Director Dr. Robert Sandhaus said.
Joe and Cindy received numerous honors and recognition during their years in the Alpha-1 community. These included:
1999 – Team Alpha-1 Appreciation award for continuous commitment to the Alpha-1 community – Cape Cod, MA
1999-2004 – Alpha-1 Association – Industry Board representative
2001 – Bayer Presidential Achievement Award (Bayer's highest company honor)
2003 – Alpha-1 Bike Trek – Quality of People Who Care Recognition Award – Cape Cod Sea Camps – Brewster, MA
2004 – Recognition by AlphaNet for "caring commitment" to the Direct program partnership
2006 – Winner of 1st Annual Talecris leadership award for innovation related to direct to patient distribution
2008 – Joe and Cindy "Associate Circle" support recognition
2009 – Special Appreciation Award presented to him by Dr. Robert Sandhaus and Diane Walsh in Chicago for 10th anniversary of the Prolastin Direct model
2010 – Joe and Cindy "Patron's Circle" special appreciation for dedication and commitment
2015 – Celtic Connection Coach's Award which honors Jack Walsh -"The Ultimate Coach"
It is hard to quantify the contribution that this one constant presence in the Alpha-1 community has made to the lives of those with this genetic condition. It is hard to picture what an Alpha-1 event will be like without Joe. It is entirely appropriate that we honor the work that Joe Zuraw has done for Alphas the world over. Joey Z reminds us with everything he did that individuals affected by Alpha-1 Antitrypsin Deficiency make up the center of the three-legged stool.
The John W. Walsh Translational Research Fund was created in October 2016 and is named after John W. Walsh, co-founder of AlphaNet and the Alpha-1 Foundation. John dedicated his life's work to finding a cure for Alpha-1 Antitrypsin Deficiency and helping those affected by Alpha-1.