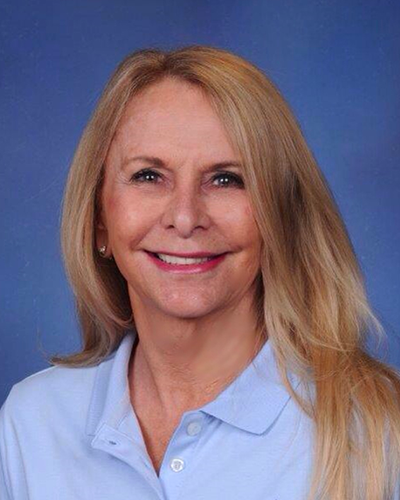 Location
Alabama, Florida, Georgia, Mississippi, N. Carolina, Puerto Rico, S. Carolina, US Virgin Islands
Infusion Product
Aralast/Glassia
Contact
(855) 338-8387
tleffler@alphanet.org
Hello, my name is Terri Leffler and I am happy to introduce myself as your AlphaNet Coordinator.
I grew up in a small Midwestern town in southern Wisconsin, where the winters are long and cold.  I now live in a beautiful southern city in Mississippi, where the summers are long and hot.  I also enjoy and get to travel and live in several states throughout the year.  This allows me to visit with my family and friends and enjoy different parts of the United States.  I am the proud mom of three wonderful, happily married children who have given me seven beautiful, talented, healthy grandchildren.  Yes, "Life is good."
My career has taken me down many paths, from business owner to a very nice journey in sales and marketing, that included radio, television, medical and Communications.  This lovely life took a sharp turn in 2006 when I developed severe lung infections and a shortness of breath.  Within 6 months it had progressed to the point that I was unable to work a full-time job.  All of my health issues began in May 2006, when I purchased a 60-year-old home with wooden floors and a delightful courtyard.  In January 2007, I was diagnosed with Alpha-1. I started infusion therapy a few months later, but my health issues did not really improve that much.  This went on until October 2010, when it was discovered that my home was full of several kinds of toxic mold.  These included Stachybotrys, Penicillium, Aspergillus and several others, which all caused lung issues—plus all the other unhealthy symptoms I was having.  When I moved out of that mold-infested house, many of my health issues improved.  I benefited greatly by the change in my living conditions, along with clean, healthy air, good nutrition, pure, clean water, regular exercise and weekly infusion therapy.  With the help of all this, I have reclaimed living a fairly healthy lifestyle.
In 2014, I was blessed again by joining the AlphaNet Team and becoming an AlphaNet Patient Services Coordinator.  In my Alpha-1 journey I have learned so much about Alpha-1, and I enjoy helping fellow Alphas in their day-to-day issues, as well as hearing about their joys.  It's very easy to feel overwhelmed when dealing with medical issues on a daily basis.  It really helps to have the support system that AlphaNet offers to Alpha-1 patients.  I always encourage Alphas to take really good care of themselves.  Alpha-1 is something we can live with, but sometimes we have to make some life changes to make it happen.  Eat healthy, exercise as much as you are able, do something you enjoy every day, and also be very positive.  This will take you a long way!
Every Alpha is different.  We each have a very unique Alpha-1 "life story."  What works for one may not work for another.  We are fortunate to have four wonderful infusion therapies available just for us. Plus, we have a very strong, supportive Alpha-1 Community.  Yes, "Life is good."  Please enjoy it every day.