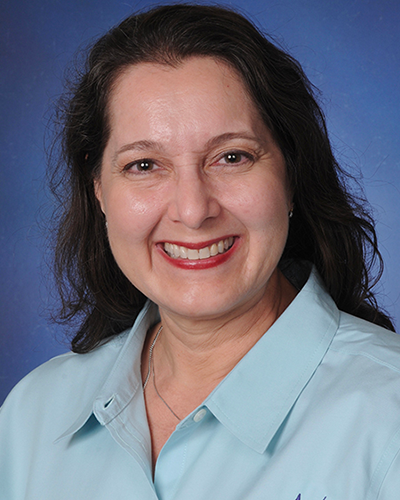 Location
Puerto Rico, US Virgin Islands
Infusion Product
Prolastin-C
Contact
(877) 330-4506
mpbaranda@alphanet.org
Hello, my name is Mirtha Pino Baranda and I would like to introduce myself as your Bilingual AlphaNet Coordinator.
I was born in Cuba, the largest island in the Caribbean. When I was five years old, my family immigrated to Spain, and after three years living in Madrid, we moved to Puerto Rico. We started a new life in our adopted country where we made a living out of practicing hard work and ethics and grew as a happy family.
I have learned from my parents to overcome life changes and challenges with resilience and the strength to always move forward. I completed a bachelor's degree in Business Administration and Marketing at the University of Puerto Rico and—following in my family's footsteps—became an entrepreneur. After establishing and owning a business for over 13 years, I moved to Clearwater, Florida in 2006, where I established my new home with my four Bichon Frise "babies": Lucas, Mimi, Susy and Lulu (mother, father and two twin sisters).
Since my 20s, I had suffered from allergies. During my 30s, I started getting asthma. By my 40s, I was suffering from bronchitis, severe asthma attacks and pneumonia. It was not until 2014 that I was diagnosed with Alpha-1 Antitrypsin Deficiency and started augmentation therapy in March 2015. I feel very fortunate that, following my diagnosis, my respiratory condition has been more stable. Since I started on augmentation therapy, my quality of life has improved, and my asthma exacerbations have decreased significantly.
I have been working in customer service, and I feel honored to be part of the AlphaNet team. It is like having another caring family. As your Coordinator, I can provide resources available for your needs and answer questions that a newly diagnosed Alpha can face. I am an Alpha working for you, helping you find solutions.
________________________________________
Hola, mi nombre es Mirtha Pino Baranda. Estoy feliz de presentarme como tu Coordinadora Bilingüe de AlphaNet.
Nací en Cuba, la isla mayor del Caribe. Emigramos a España cuando yo tenía cinco años de edad. Vivimos en Madrid durante tres años y luego nos mudamos a Puerto Rico, donde actualmente residen mis padres. Comenzamos una nueva vida en nuestro nuevo país adoptivo. Crecimos en un ambiente de ética de trabajo y como una familia feliz, también tengo dos hermanos extraordinarios. Aprendí de mis padres a sobreponerme de las vicisitudes de la vida con Fortaleza, no dejándome vencer y mirando al futuro.
Hice mis estudios en la Universidad de Puerto Rico con un Bachillerato en Administración de Empresas y Mercadeo. Luego seguí los pasos empresariales de mis padres y establecí y trabajé en mi negocio de manufactura y distribución por trece años.
Me mudé en el 2006 a Clearwater, Florida donde establecí mi nuevo hogar. Viajé con mis cuatro Bichon Frises, Lucas y Mimí, padre y madre de las hermanas gemelas Susy y Lulú. Estos perritos son la luz de mi vida.
Mi historia médico posiblemente les sea familiar a algunos de ustedes. A mis 20s, sufría de alergias y padecía de asma a finales de mis 30s. Durante mis 40's, sufría de bronquitis, asma severa y pulmonía. No fue hasta en 2014 que me diagnosticaron con Alpha-1 Antitripsina. He estado bajo terapia de reemplazo intravenosa Prolatin-C desde marzo del 2015. Me siento muy afortunada de haber sido diagnosticada a tiempo. Mi condición respiratoria se ha estabilizado y mi calidad de vida ha mejorado significativamente.
Como tu coordinadora, mantendré contacto periódico contigo y te ayudaré en obtener la información más actualizada. Estaré disponible para contestar preguntas y ayudarte en lo que este a mi alcance. He trabajado en servicio al cliente por los últimos nueve años y siento que mi experiencia en los negocios y en la vida me ayudan a entender tus necesidades con la seriedad y compasión que así amerita. Sé cómo se siente cuando te dan el diagnóstico por primera vez. Estoy aquí para ti, como mi coordinadora estuvo para mí con palabras de aliento y esperanza. Te ayudaré a buscar soluciones, los mejores recursos y acceso a los expertos. Me siento muy orgullosa de ser parte de AlphaNet y tener la oportunidad de ayudar a otros Alphas. Estoy aquí para servirte.