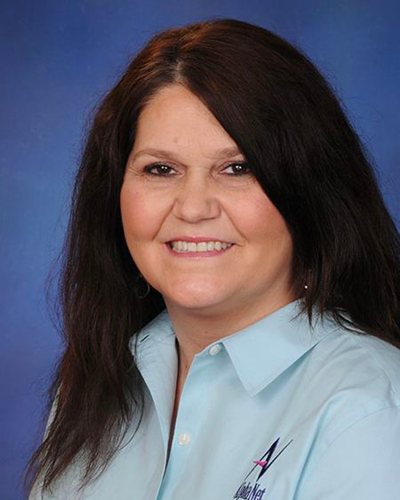 Location
Arizona, Arkansas, Louisiana, Nevada, New Mexico, Oklahoma, Tennessee, Texas, Utah
Infusion Product
Aralast/Glassia
Contact
(855) 230-4242
lriddle@alphanet.org
Hi, my name is Lisa Ann Riddle and I would like to introduce myself as your AlphaNet Coordinator.
I live in Oklahoma City, Oklahoma, with my husband Eric. I was born and raised in Tennessee. I am the proud mother of 2 daughters and 4 grandchildren.
I was diagnosed with Alpha-1 in July 1998 right before my 32nd birthday. I had made my way through at least three pulmonary doctors. I then found myself seeing an Asthma Allergy Specialist and it was there I was diagnosed. My pulmonary function tests (PFTs) ranged at that time between 46 and 49%. I was also an ex-smoker. I could also probably contribute a lot of that damage from working in a factory that made lawn mowers and being exposed to fiberglass and paint daily for nearly seven years. As like most, I was lost and clueless to hear the words Alpha-1 Antitrypsin Deficiency and I found myself on a mission. I was on the internet for hours daily trying to learn and find as much information as I could. There was very little at that time to be found, but I did find AlphaNet and quickly found myself bonding with my Coordinator. It was bittersweet to talk to someone that had been through a lot of the same things I had.
During my search, I also found my doctor and longtime advisor Dr. Mark Brantly. I was so very fortunate to find him and be able to call him my doctor. I've learned so much from him and being a patient with a very long list of strange events, I think he has learned a lot from me as well. Fifteen years later, I'm still here doing most things that I love and enjoy. I love to cook and experiment with new recipes that I make up myself. Preparing a huge holiday dinner is my specialty with all of the fixings and desserts. I enjoy redecorating my house and taking on projects that I know I shouldn't be doing, but love to do. I enjoy fishing and camping when it's not too hot. Some days are more of a challenge then others, but for the most part each one is a new learning experience for me. I never take life for granted and I love each and every minute that I have of it. Staying positive, focusing on the good things, and forgetting the bad, is my way of life. Talking to others with Alpha-1 has always been something that I have learned from and enjoyed doing. I hope I am able to serve you and do as well as my fellow Coordinators have for me.