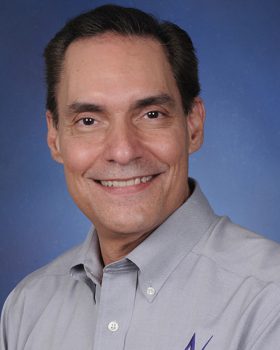 Location
Delaware, District of Columbia
Infusion Product
Prolastin-C
Contact
(877) 646-3246
jalvarez@alphanet.org
Hi my name is Jesus Alvarez and I would like to introduce myself as your AlphaNet Coordinator.
I live in Miami, Florida, which has been my hometown for over 52 years.  My past 15 years have consisted of me, along with my brother, creating and building our passion project—which is a fully volunteer-run, non-profit organization providing educational, cultural and youth development programs for children in poor, remote areas. I have also been blessed with the opportunity in assisting families find new homes and start new lives in beautiful South Florida as a real estate agent.
I feel fortunate to have been diagnosed with Alpha-1 Antitrypsin Deficiency, genotype ZZ, in February 2016 after years of not knowing what was causing my poor health.  In 2013, my first pulmonologist told me I had Stage 4 Emphysema, and that it was caused by my years of smoking.  In January 2016, I switched my insurance plan and subsequently, my pulmonary doctor.  My new pulmonologist saw that my lung function tests were getting worse and asked me if I was ever tested for Alpha-1 Antitrypsin Deficiency.  Since I had never heard of this oddly named condition, I was pretty sure that I had never been tested for it.  He suggested I get tested, and I immediately agreed.  Ten days later, he told me I had tested positive for Alpha-1 as a "ZZ" genotype.  I felt both confused and relieved with my Alpha-1 diagnosis.  When he explained that my condition can be managed with augmentation therapy, I felt fortunate and blessed.
Following my diagnosis, I see and treat life differently.  I appreciate life more than ever, with every breath I take.  I love my family and friends much deeper and appreciate them much more.  I have found a new passion in assisting my fellow Alphas.  It's very comforting to know that you can reach out for help to someone at AlphaNet, and we will be there for you every step of the way.